Anpario Plc or how to take profit from a growing trend in the farming industry ?>
Anpario Plc or how to take profit from a growing trend in the farming industry
Anpario Plc is undervalued right now taking into account a DCF model and it will benefit from a growing demand of protein due to a fast world population growth and a growing middle class in emerging markets. That will provoke a need in increasing output in the farming industry, and its products has been demonstrated to help in that aspect.
It will also be benefit by an increasing demand of organic products and some countries regulation changes about the use of antibiotics in farming. The company will also be benefit by the new Brazilian subsidiary, that it will boost revenue as Brazil is one of the bigger meat producers of the world.
http://www.theguardian.com/us-news/2015/oct/11/california-brings-in-strict-limits-on-use-of-antibiotics-in-livestock-farming
http://www.globalmeatnews.com/Livestock/US-pork-industry-ready-for-antibiotic-change
http://www.huffingtonpost.com/entry/antibiotic-free-meat-subway-perdue-tyson_us_56d49d09e4b0871f60ec465c
Overview:
Anpario Plc is British based microcap that manufactures and distribute high performance natural feed additives for the farming industry. Its products are developed to increase animal output or health.
The company employs ~100 people and it sells its products in 70 countries around the world, being focused on the USA, China and Brazil, that are the largest meat producers of the world. That's the reason why the company created a subsidiary in Brazil, that had recently obtained permissions and licences to import and sell their products in the country, and it's focused in expanding its business in those 3 countries. Those 3 countries represents the 50% of total output.
They use a combination of local distributors, joint ventures and wholly owned subsidiaries in order to distribute its products.
The board is committed to increase margins, and to do that, they have sold the organic feed division, that provided a great amount of revenue but with lower margins than the high margin specialty feed. An investment in a new production line has been done during 2015 in order to improved efficiency and increase production.
The company thinks that people is one of their greatest assets and that's the reason why they invest in that, paying competitive salaries and hiring highly qualified personnel such as veterinarians and PhD's.
Moreover, the company is seeking for opportunities in Europe, Middle East and Africa. But, despite that, Anpario had left some countries of Europe due to the weak situation in that area, that provoked unprofitability in some countries. The have also seen how its business in Oriental Europe has been reduced due to the Russian bans that it has not only affected Russia but also some peripheral countries. Middle East tensions has also affected the expansion of the business, but it will be benefit by the introduction of Iran to global markets where they have had significant previous business.
Its main brands areKiotechagil,Meriden andOptivite.

Financials and valuation: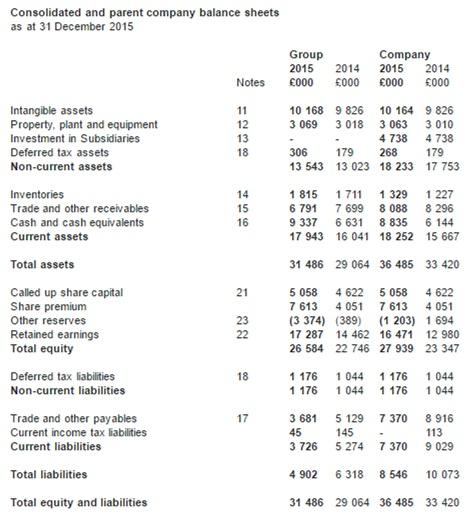 Source: Anpario Plc Annual Report 2015
The company has a strong balance sheet, as it has no debt and equity represents an 80% of its total equity & liabilities. Total liabilities represents only ~53% of cash, that it has been increased without any problem.
It can be seen that intangible assets has been increased since 2014. That's because they have invested in patents in order to protect its new products and brands against competition.
The company has also no problems in order to generate FCF.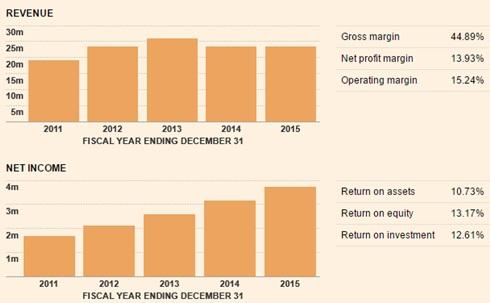 Source: Financial Times Screener.

Source: Morningstar
As can be seen, the company has been able to improve its margins since 2010 (it was a 5.9% then). That has helped to increase net income despite the lower revenue that the company had in 204 and 2015, partly affected by the volatility in exchange rates and the sell of, as I have previously said, one of its businesses.
About the DCF model, I have been very conservative, and I have used a 20% discount rate as is the difference between the company's ROIC-WACC+WACC, so then I cover a 'non value creating' scenario. As an initial FCF I have used 8gbp millions and a 1.5 and 2% growth rates. That results in 398gbp per share price.
Risks:
The main risks for Anpario are:
Competitors.
An increase in raw materials.
A change in demographic trends.
Not being able to produce new products.
Being unable to enter new markets.
Losing one of its main clients.